Origin of Mount Myogi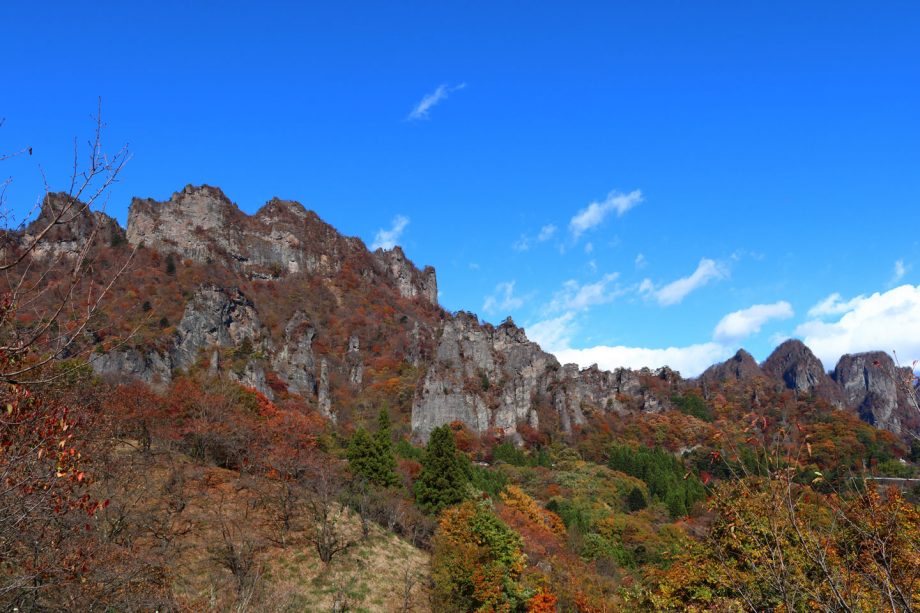 The volcanic activity that shaped Mount Myogi is about 6 million years old. Mount Fuji started its volcanic activity about 400,000 years ago, so Mount Myogi is a much older volcano compared to Mount Fuji.
Volcanoes usually stop their volcanic activity after one to two million years. Fuji is still active today, but Myogizan stopped its volcanic activity a long time ago.
Mt. Myogi, which ceased volcanic activity a long time ago, has been scoured by rain and wind for a long time, giving it its current strange shape, which has been called one of the three strangest sights in Japan.
There may have been a time when Mt. Myogi had a shape like Mt.
However, we still don't know the details of Myogi's formation.
Most old volcanoes are scoured away by rain and wind, and the mountain disappears. One of the things we don't know is that Mount Myogi still retains its mountain shape. There are also many other mysteries about Mt. Myogi, such as how the strange rocks were formed.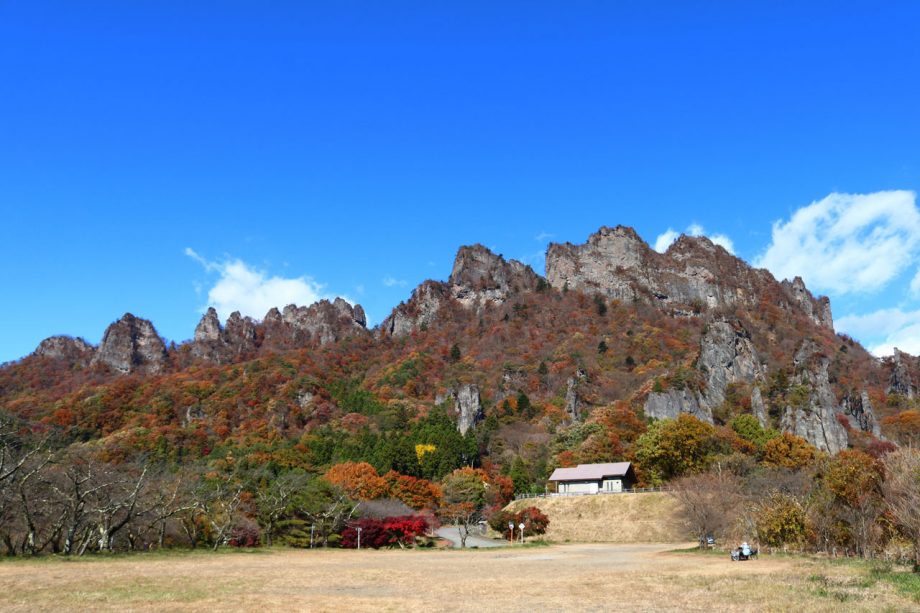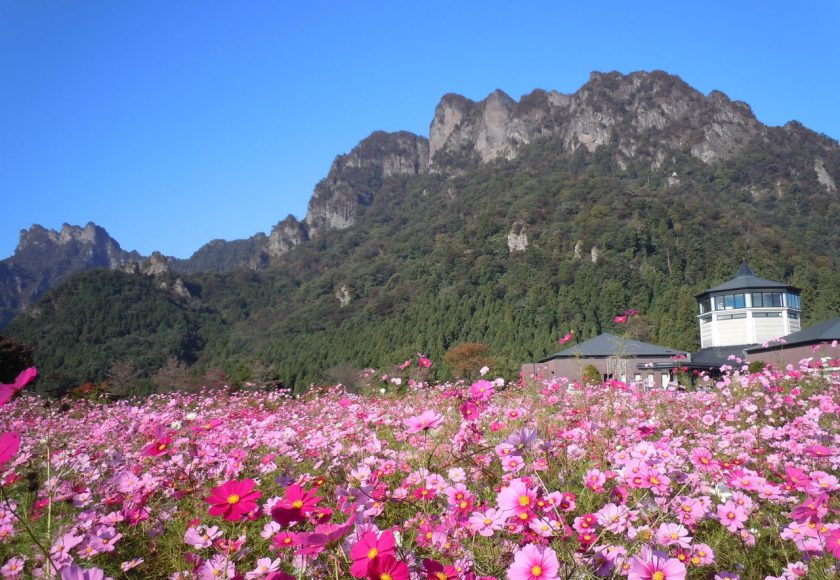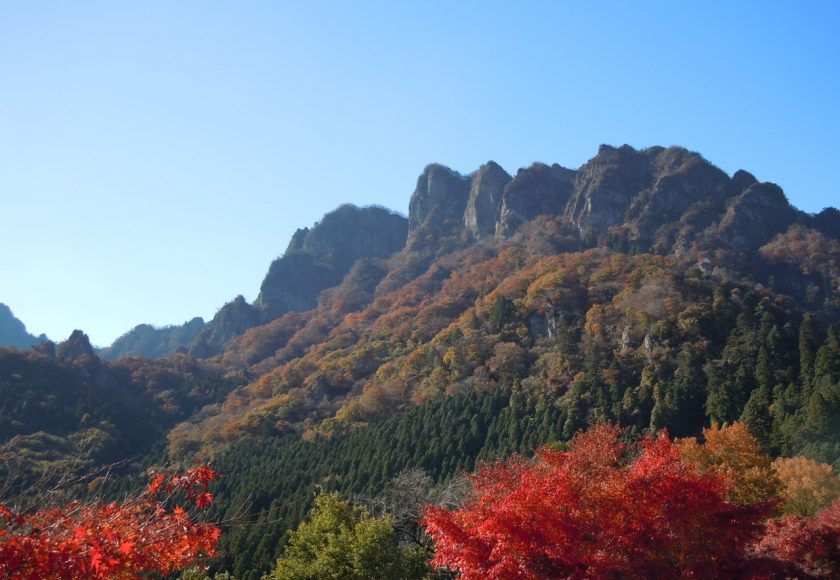 Basic information about Mt. Myogi
Mt. Myogi was formed by volcanic activity up to 3 million years ago, and consists of lava, tuff and conglomerate.
In the middle of the face, the solemn Myogi Shrine was built with Hakunoyama as its deity. In the Edo period (1603-1867), it was believed to have spiritual powers to ward off fire and lightning. The beauty of its dynamic landscape, created by the sharp rock faces of its rocky peaks, fascinates everyone who visits.
Mt. Myogi is located in Gunma Prefecture, comprising two cities and one town (Annaka City, Tomioka City, and Shimonita Town), and is counted among the three mountains of Jomo. It has been known as a mountain of faith since ancient times.
The highest peak, Somadake (1,104m) of Mt. Hakuun, and Higashidake (1,094m) of Mt. Kindozan can be enjoyed throughout the year, with cherry blossoms in spring and autumn leaves in autumn.
Access to Mt. Myogi
There are two main entrances to Mt. Myogi: Nakanotake Shrine and Myogi Shrine.
Using public transportation from Tokyo metropolitan area
.
(1) By JR: Take the Shinkansen to Takasaki. Change to the Shinetsu Line and get off at Yokogawa Station. Take a taxi for about 25 minutes. (Myogi Shrine).
(2) By JR: Take the Shinkansen to Takasaki. Transfer to Jyoshin Dentetsu Railway and get off at Shimonita Station. Take the local bus to Nakamura and walk 60 minutes. (Taxi service is also available)
From Gunma Prefecture
From Tomioka Station: Take a shared cab from Kamiishin Dentetsu Tomioka Station, 30 minutes. (Myogi Shrine)
From JR Yokogawa Station: Take a cab, about 30 minutes. (Myogi Shrine)
From JR Yokogawa Station: 30 minutes by taxi. (Taxi is also available)
By car
From Kan-etsu Expressway, Fujioka JCT, Joshinetsu Expressway, Shimonita IC or Matsuida Myogi IC, approx. 250000 min.
From Karuizawa
By TAXI
From Karuizawa Station, take a taxi for about 10,000-12,000 yen (per car).
Please contact the cab company for details.
From Karuizawa Station, take the JR bus to Yokogawa Station (about 45 minutes). Take a taxi from Yokokawa, around 5,000-7,000 yen (1 car)
Weather around Mt. Myogi (Shimonita Town)
The average annual temperature is 12.1℃, annual precipitation 1,546mm, and snowfall is relatively mild, occurring only a few times a year.
https://ja.climate-data.org/アシア/日本/群馬県/ Shimoniida-cho-54030/.
Translated with www.DeepL.com/Translator (free version)
Mt. Myougi Sightseeing Spot