Shimonita Hydrangea Garden in 2022
The Shimonita Hydrangea Garden is located at the eastern entrance of the town near the Shimonita Interchange, and is one of the largest hydrangea gardens in the Kanto region, with approximately 20,000 hydrangea plants and 1,200 sarusuberi trees planted on an area of approximately 3 hectares.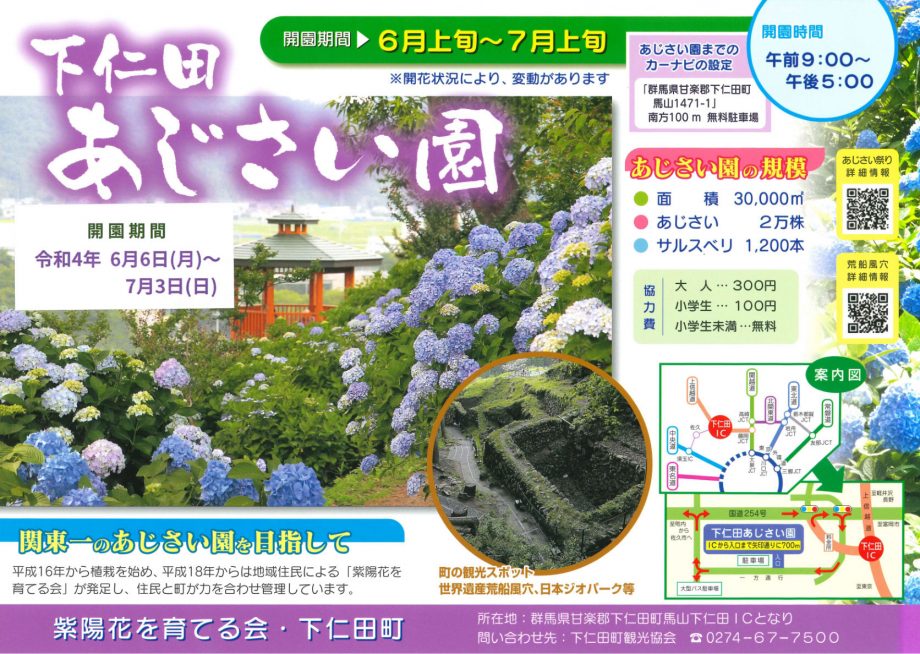 As part of our efforts to prevent the spread and transmission of the new coronavirus infection in 2022, we ask for your cooperation in the following when walking around the park.
1. Wearing a mask
2. 3Tightness (hermeticity, density, closeness) avoidance
3. Walking in the park is one-way
Acceptance Procedure
Hand sanitizer ⇒ Temperature measurement ⇒ Payment of cooperation fee at reception ⇒ Walk around the park ⇒ Leave the park
Dates: June 6 – July 3, 2022
Hours: 9:00-17:00
Cooperation fee:
Adults: 300 yen
Elementary school students: 100 yen
Children under elementary school age: free
Parking: Free parking available
 
*Subject to change or cancellation due to new coronavirus infection.